5000x STORM AREA 51: AYY LMAO EDITION Steam cdkeys giveaway
Reward description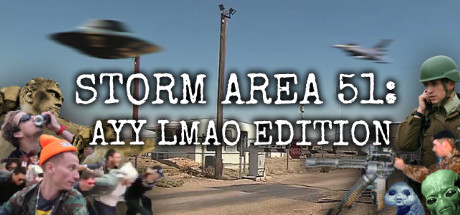 STORM AREA 51: AYY LMAO EDITION - it's time to Storm AREA 51, and see them aliens. If we Naruto Run, we can move faster than their bullets. Rock Throwers will throw pebbles (to annoy them enough to not shoot the Kyles as often). They can't stop all of us...
Get a free Steam cdkey
Dear friends, today we start a new big giveaway! Right now you can get one of 5000 Steam cdkeys of "STORM AREA 51: AYY LMAO EDITION" game - just complete several easy tasks and you will instantly get your free Steam cdkey.
Please complete all the following actions:
Share with friends!
Inform your friends about this giveaway. More users participate in this event - more games will be provided by sponsors to give away in the future.